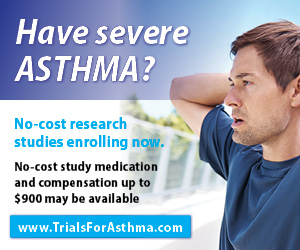 Get a chance to participate in a Free Clinical Research Opportunity & get a compensation up to $900 for sharing your thoughts and opinions!!
Unknown but likely to be high, Asthma is a common chronic inflammatory disease, common symptoms include wheezing, coughing, chest tightness, and shortness of breath. Affects 300 million people of all races worldwide. Around age 20, men and women are equally likely to have asthma. However, as women age they are more likely than men to have asthma
Age Range: 18-75
Other: Must have been diagnosed with Asthma and must not be a current smoker & should not have major medical conditions such as: Cancer, COPD, Emphysema etc.
Register Here to get started or share with a family member or friend who has Asthma